GMU 23 Working Group
— Addressing Fall Hunting Conflicts
Background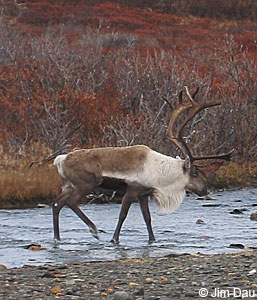 To start addressing the issues described in the Game Management Unit (GMU or Unit) 23 Hunter Orientation, the Alaska Department of Fish and Game (ADF&G) interviewed representatives of the different user groups in 2006. In May 2007, ADF&G met with key individuals and agencies to discuss convening a cooperative working group that would focus on hunting in Unit 23. Meeting attendees recommended setting up a working group to try to cooperatively resolve conflicts.
The Unit 23 Working Group formed in early 2008 to discuss issues related to fall hunting and to work toward developing solutions that all can support. The 20-member group includes representatives of regional and tribal governments and organizations, land and wildlife management agencies, the Big Game Commercial Services Board, the Alaska Professional Hunters Association (which include representatives from the hunting guide and transport industries), Fish and Game Advisory Committees, the Northwest Arctic Regional Advisory Council, and the Board of Game and Federal Subsistence Board.
Unit 23 Working Group Purpose
The purpose of the group is to find solutions to hunting conflicts that will preserve the Inupiaq values of the region, including opportunities for local hunters to take caribou as needed, while also providing reasonable opportunities for non-local hunters to hunt caribou in the unit. The group makes advisory recommendations to the regulatory agencies and boards that manage hunting, land use and wildlife in Unit 23. The group works cooperatively to reach consensus decisions on what to recommend.
Unit 23 Working Group Progress — April 2008 to Present
Public Process: The Unit 23 Working Group has met at least annually in Kotzebue from 2008 through 2016. Members of the group also traveled to Kiana, Noatak and Shungnak to meet with the Fish and Game Advisory Committees and public in those communities and with hunters from Ambler, Kobuk and Noorvik who came to join in the conversations. The Working Group has also heard from the public through comment sessions at the meetings, toll-free telephone call-ins, and through mail and email.
Recommendations to Reduce Hunting Conflicts: To date, the Working Group reached the following consensus recommendations and helped to reduce user conflicts during the hunting season in Unit 23 in the following ways.
Noatak CUA Date change — Based on proposals from the Working Group, the Alaska Board of Game and the Federal Subsistence Board changed the dates of the Noatak Controlled Use Area (CUA) to August 15–September 30 (from the prior regulation dates of August 25–September 15). The new dates took effect in 2010. The fall caribou migration in Unit 23 has become more variable and generally later. Lengthening the dates of the CUA will accomplish the original objective of separating boat and airplane hunters during the fall hunting season.
Mandatory orientation for pilots — Based on a proposal from the Working Group, the Alaska Board of Game enacted a regulation requiring a one-time orientation session for pilots flying in Unit 23 for the purpose of transporting game. A pilot may not transport parts of big game with an aircraft without having, in their possession, a certificate of successful completion of a department-approved education course that is offered on-line. (Note: This provision does not apply to transportation between state-maintained airports.) The orientation materials emphasizes measures that can be taken to avoid or reduce conflicts with local hunters. The requirement went into effect in 2010 and 365 pilots have taken the test as of May 2016. In addition, the Unit 23 Working Group has provided information to the Federal Aviation Administration (FAA) to educate pilots at workshops and outreach events, regarding how to avoid disturbing caribou and causing conflicts with local hunting during the fall hunting season in Unit 23.
Improve communication — The following communication is taking place, to reduce conflicts and improve communication between local communities and hunters and the guides, transporters and non-local hunters who come to the region each fall:

The Working Group has communicated via letter with guides and transporters who operate in Unit 23, recommending ways that they and their clients can avoid conflicts with local hunters, with particular focus on avoiding disturbing hunting along the river corridors that are the primary access corridors for local hunters.
The federal and state land managers provide information to guides, transporters and non-local hunters before each season about ways to avoid conflict while hunting, meat care, sensitive areas in GMU 23 that should be avoided, land status, and other topics. Each year, the Bureau of Land Management (BLM) updates digital land status maps for Unit 23 and makes them available to private pilots, guides, transporters and the general public online and for download to a mobile device.
Each year, the Northwest Arctic Borough hosts a pre-season meeting/teleconference with local villages and NANA Purcell Security, to let them know which commercial service businesses (guides, transporters) are expected to operate in different areas of Unit 23 during the hunting season. This pre-season meeting is attended by BLM, Alaska Department of Fish and Game (ADF&G), US Fish and Wildlife Service, National Park Service, and the Alaska Wildlife Troopers.
Additional education measures implemented by ADF&G include the distribution of the Hunt Legal — Hunt Smart pamphlet (

PDF 861 kB

), on-line hunter orientation for Unit 23 hunters, and widespread posting of a poster describing proper caribou meat salvage (

PDF 289 kB

). The department is also offering more hunter education courses that address responsible hunting, firearm safety, and meat care.

Expand statutory authority of Big Game Commercial Services Board to address transporter activity — The Working Group recommended that the Alaska State Legislature expand the Big Game Commercial Services Board's (BGCSB) authorities to regulate transporter numbers and use areas (as it does for big game guide services). The Working Group also recommended changing the definition of "transportation services" to require air taxi operators that transport clients for big game hunting in the field to comply with regulations that address transporters. No action has been taken by the Legislature on this recommendation. However, in 2010–2013 the Alaska Department of Commerce, Community and Economic Development (DCCED) funded an investigator to focus on transporter services in Unit 23 during each fall hunting season. Download State investigators' reports: 2010 (

PDF 919 kB

), 2011 (

PDF 244 kB

), and 2012 (

PDF 419 kB

), and 2013 (

PDF 91 kB

).

The Working Group supports the State of Alaska's proposed Guide Concession Program (http://dnr.alaska.gov/mlw/gcp) and recommends that it also address transporter services. However, the State has not implemented this program due to lack of Legislative support and funding.
Improve coordination among federal and state management agencies — The Working Group recommended that federal and state agencies with responsibility for management of wildlife, land and commercial hunting services coordinate their planning and management to the maximum extent possible. Steps these agencies are taking to improve coordination include:

Coordination of law enforcement efforts, including coordination with the NANA Purcell Security program that focuses on trespass on private lands, and with the Department of Commerce, Community and Economic Development investigator responsible for enforcement of the State of Alaska's licensing laws for the big game commercial services industry.
Coordination of management plans that affect the number and distribution of guides and transporters operating in Unit 23.
Use of a consistent set of permit stipulations for guides and transporters that address ways to avoid or reduce conflicts during hunting season.

Additional Actions — The Working Group is also keeping informed about and providing comments on development and other activities proposed for northwest Alaska that may affect the Western Arctic Caribou Herd, the availability of the herd for hunting, or the potential for conflicts between local and nonlocal hunters. For example, at its May 2013 and May 2014 meetings, the Working Group heard presentations from the Alaska Industrial Development and Export Authority (AIDEA) about the proposed road to the Ambler mining district that would be located in Unit 23 and has provided comments to the State of Alaska about the proposed road.
Background Information
Meeting Schedule
The Unit 23 Working Group expects to meet again in 2017 in Kotzebue. An additional teleconference may also be held in 2016. More information will be posted prior to the next meeting dates.
Past Working Group Meetings
May 4–5, 2016
May 14–15, 2015
May 14–15, 2014
May 8–9, 2013
May 11–12, 2012 (

PDF 2,297 kB

)
May 11, 2011 (

PDF 1,566 kB

)
May 06, 2010 (

PDF 99 kB

)
October 12, 2009 (

PDF 124 kB

)
April 23–24, 2009 (

PDF 229 kB

)
January 30–31, 2009 (

PDF 254 kB

)
October 29–31, 2008 (

PDF 106 kB

)
April 23–24, 2008 (

PDF 84 kB

)
May 11, 2007 (

PDF 37 kB

)
For more information on the Unit 23 Working Group or to comment, contact:

Jan Caulfield, Facilitator
Unit 23 Working Group
janc@gci.net
907-523-4610