Living With Bears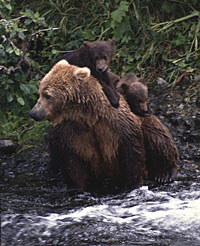 One thing that makes Alaska unique is that all three species of North American bears flourish here. It is not uncommon for residents or visitors to Alaska to see bears, usually from a safe distance. But even if you don't see a bear, you will never be far from one; Alaska is bear country.
By learning about the lives of black bears, brown bears (including grizzly), or polar bears, you will enhance your enjoyment of these species and help minimize human-bear conflicts. Whether you are learning about bears for the purpose of hunting, viewing, traveling safely, or deterring bears from your property, the more you know the better.
Living in Bear Country
Living in a state with large predators comes with responsibilities. In order to maintain healthy bear populations and reduce conflicts with bears, certain precautions should be taken. Whether it is keeping the garbage at your home secure, or maintaining a clean campsite, your behavior often dictates the bear's behavior. Learn more about living and camping in bear country on these pages so that you, and the bears, can live safely together.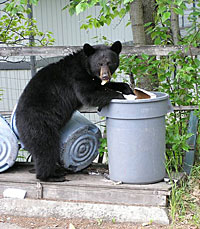 Responsible Handling of Bear Attractants
Living with bears requires that people keep all human sources of food secure from bears. The following pages provide useful tips to help keep bears wild and people safe.
Safety in Bear Country
If you encounter a bear, how you behave often dictates the outcome of the encounter. Even though encounters with bears are not common and aggressive bear encounters are rare, the more you know about bear safety the better off you are. Learn about safety in bear country on these pages. Get the facts and dispel myths so that you can enjoy the outdoors with confidence and competence.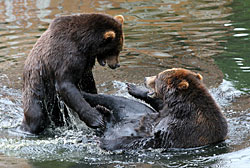 Safety in Polar Bear Country
Videos and Story Maps
Handling Conflicts
Look at these web pages to find out what you can do to deal with problems with bears.
Community Partnerships
Alaska has several interagency or community groups across the state aimed at minimizing human-bear conflicts and increasing bear awareness among residents and visitors to Alaska. The Alaska Department of Fish and Game often leads these committees, or is an active member of them. Contact the Wildlife Education Program Coordinator, 907-465-8547 if you are interested in learning more about these community partnerships. To find out about upcoming public programs on bear awareness/wildlife safety, visit our calendar.
Related Articles