Kenai Brown Bear Committee

Background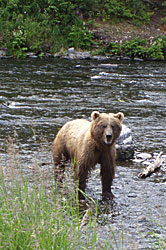 The Kenai Brown Bear Committee (KBBC) was founded in August of 2004 as a means to continue the work of the original Kenai Peninsula Brown Bear Stakeholders' Group. The original group, which was comprised of 15 citizen and government stakeholders, developed a conservation strategy for the Kenai Peninsula brown bears and is the basis for the KBBC. In an effort to decrease the number of brown bears that are killed in the defense of life and property (DLP), the committee is focused on understanding the importance of conserving brown bear habitat and increasing the public's knowledge of brown bears in general.
The KBBC meets twice a year to help facilitate cooperative education and outreach improvements regarding Kenai brown bear issues. Through hard work and dedication, the committee has implemented a multi-faceted public education campaign which includes informational mailers, booths at high profile venues, school (K-6) educational programs, and television and radio commercials containing relevant public service announcements.
With an increasing human population and subsequent rapid development on the Kenai Peninsula, the KBBC advises the public about how to take responsibility for reducing human/bear conflicts in their communities. To meet this goal the committee educates residents and visitors about how to handle the primary human derived bear attractants including the following; garbage, bird and pet food, livestock and their food, and fish carcasses. Although bears can be active throughout the year, April is the time of year when most bears emerge from their dens. For this reason, the first week in April is the kick-off week for the KBBC to get their "BE BEAR AWARE" educational messages out to the public. This is a very busy time for the committee as they use the different media to inform homeowners that it is time to keep trash in bear resistant containers or indoors; keep all animal food indoors and take down birdfeeders; use electric fencing around compost piles, livestock, and other attractants; and dispose of fish waste properly by checking relevant fishing regulations.
As the public continues to become aware of bear attractants and follow the recommendations of the KBBC it is our hope that the numbers of human/bear conflicts will decrease. Fewer conflicts will decrease the numbers of DLPs and increase safety for people on the Kenai Peninsula.