Haines-Skagway Management Area

Overview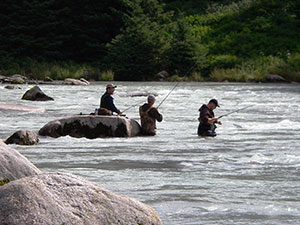 At the northern end of the Southeast Alaska panhandle, Haines and Skagway each serve as connections between mainland highways and the Alaska Marine Highway System, which services Southeast Alaska communities. The Haines/Skagway Management Area includes salt waters of Lynn Canal, Taiya Inlet, Chilkoot Inlet, and Chilkat Inlet, and fresh waters in and around the communities of Haines and Skagway. Haines is adjacent to the Chilkat Bald Eagle Preserve and the Haines State Forest. Skagway is set amid Klondike Gold Rush National Historic Park and adjacent to the Tongass National Forest.
The Haines/Skagway Management Area offers excellent recreational fishing opportunities in both saltwater and freshwater. Saltwater fishing includes the spring (May-June) king salmon sport fishery in Chilkoot and Chilkat Inlets, and summer (June-August) angling in Taiya Inlet targeting hatchery-produced king salmon returning to Pullen Creek. Opportunities for freshwater fishing in Haines include Chilkoot River and Chilkoot Lake, Chilkat River and Chilkat Lake, Mosquito Lake, and other smaller lakes. Skagway fresh water fishing areas include the Skagway and Taiya Rivers, Dewey Lakes. See the Fishing Information tab for a more detailed description of local fishing areas.
Haines and Skagway are drier than most Southeast Alaska communities, but they still receive about 50 inches of precipitation annually. Adequate rain gear, rubber boots, and insect repellent are a must, and anglers wanting to access additional freshwater areas should wear chest waders with non-felt rubber sole boots. Most angling areas are also shared with brown bears. Anglers should stay a safe distance from bears, make noise when traveling, dispose of fish waste in moving or deep water, and keep a clean camp.