Lower Cook Inlet Management Area

Fishing Research
Research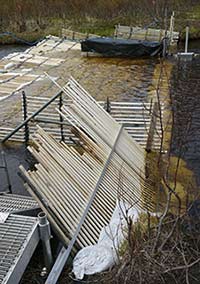 North Fork weir underwater video system incorporated into fish passage chute. © ADF&G / Terry Thompson.
Anchor River Chinook Salmon Assessment
The Anchor River king salmon escapement project is used to monitor annual run strength and manage the sport fishery. The Sustainable Escapement Goal for the stock is updated every three years using spawner-recruit analysis. This project has been in operation since 2003 and is located on the southern portion of the Kenai Peninsula. Chinook salmon escapement is monitored on the South and North forks of Anchor River beginning early-May through early August. The South Fork watershed is approximately twice the size of the North Fork. Escapement is primarily monitored using a resistance board weir on the South and on the North Fork. An underwater video system is installed within each weir and motion-detected fish passage will be recorded 24 hours per day seven days each week. In some years if high spring flows prevents installation of the South Fork weir, a DIDSON sonar maybe used early in the season until flow subsides. The number of king salmon counted during the project operation is posted on the Anchor River Chinook Fish Count page.
---
Deep Creek Chinook Salmon Assessment
King salmon escapement in Deep Creek has been monitored annually since 1962 using an aerial survey to count king salmon in a standard section of the stream. The number of king salmon counted is used as an index of escapement to assess if the run has met it Sustainable Escapement Goal (SEG).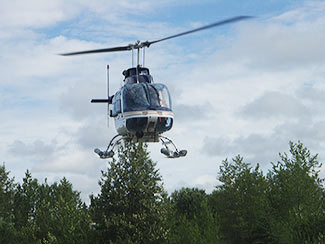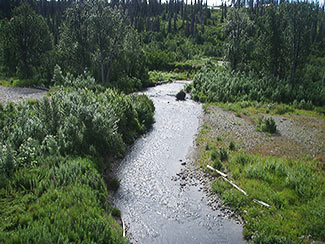 ---
Ninilchik River Chinook Salmon Escapement and Supplementation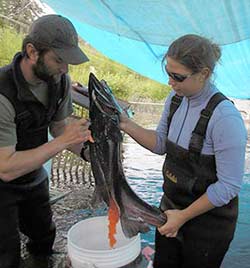 The Ninilchik River is one of three streams on the Lower Kenai Peninsula that supports a road accessible sport fishery for Chinook salmon. The Sustainable Escapement Goal for the stock is updated every three years using spawner-recruit analysis. Chinook salmon escapement is monitored at a broodstock weir located approximately 4 miles upstream of the mouth from mid-May through early August. Since 1987, hatchery-reared Chinook salmon have been stocked in the Ninilchik River to support the Chinook salmon sport fishery. As a result of this stocking program two groups of Chinook salmon (wild and hatchery-reared) return to the Ninilchik River. Hatchery-reared king salmon are distinguished from wild by the adipose fin. Hatchery king salmon are missing their adipose fin and have a healed fin clip scar. In July, when most of the Chinook salmon ripen and spawn, an inriver holding area is created at the broodstock stock weir to collect and hold fish until they ripen for eggtakes. The egg take goal is to artificially spawn approximately 140 pairs from the Ninilchik River with a minimum of 60 wild pairs for stocking back into the Ninilchik River. The progeny from the eggtakes are used also for stocking the Kachemak Bay terminal stockings.
---
Chinook Salmon Marine Harvest Stock Assessment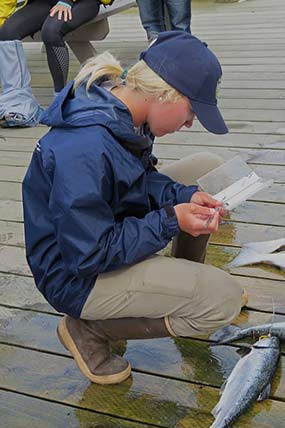 Beginning in 2014, funding from the Chinook Salmon Research Initiative allowed for sampling of the marine sport fishery in central Cook Inlet from April through August, and out of Homer year-round. Due to limited coded wire tagging, attempts to estimate stock-specific harvests of Chinook in the Cook Inlet marine sport fisheries have been unsuccessful. Since the 1990s, Chinook from both fisheries have been periodically sampled for biological information and coded wire tags, but not for genetic stock identification. Genetic sampling provides stock composition and harvest data within four genetic reporting groups:
Susitna River (Yentna and Susitna Rivers, and Western Cook Inlet)
Kenai River (Kenai River mainstem and tributary)
Other Cook Inlet (Cook Inlet from Turnagain and Knik Arms, Kasilof, Anchor, and Ninilchik Rivers, and Deep and Stariski Creeks)
Outside Cook Inlet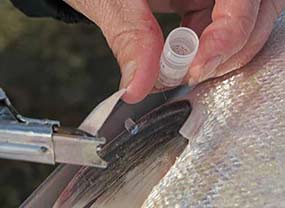 Figure 1. Collection of generic tissue for use in stock identification. © ADF&G/Terry Thompson.
During the summer fishing season, department staff are stationed at each of the major fishing access points at the Homer Harbor, and Anchor Point and Deep Creek tractor launches. The goal is to contact returning sportfish anglers to collect fishing effort information; biological samples from Chinook catches including age, sex, length, and genetic tissue samples (Figure 1); and the heads of any Chinook missing an adipose fin (possibly indicating a coded wire tag). In addition, sampling occurs during weigh-in at two annual Homer king salmon derbies, in March conducted by the Homer Chamber of Commerce and in October hosted by the Homer Elks Lodge.
---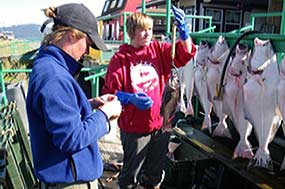 Marine Recreational Groundfish Research
The Gulf of Alaska Halibut and Groundfish Harvest Assessment Program was launched in 1991, supported by WB-DJ Federal Aid in Fish Restoration funding. The project has continued every year since then and now includes support from the State of Alaska General Fund. The project includes angler interviews and biological sampling of the sport groundfish harvest at Kodiak, Homer, Anchor Point/Deep Creek, Seward, Valdez, and Whittier, the primary ports of sport landings in Southcentral Alaska.
---
Eastern Cook Inlet Razor Clam Research
Razor clams populations on the eastern beaches of Cook Inlet between Anchor Point and the Kasilof River have been monitored since 1965. ADF&G uses three methods to monitor razor clam numbers: 1) estimates of density and abundance of juvenile (<80mm) and mature (<80mm) size razor clams at Clam Gulch and Ninilchik; 2) the age and length composition of the razor clam harvest; and 3) overall and beach specific razor clam harvest and effort.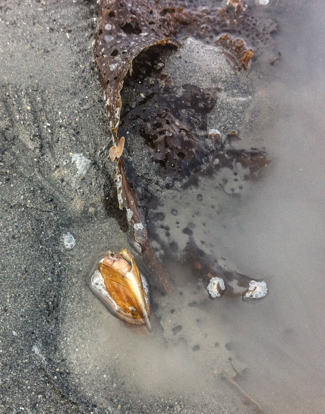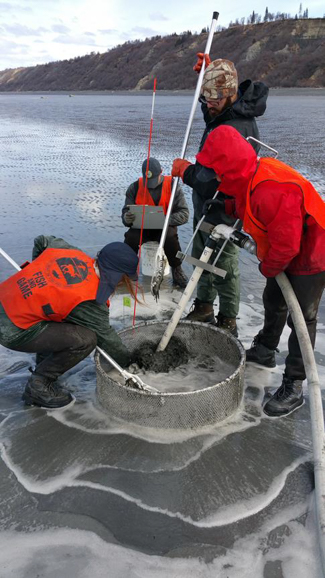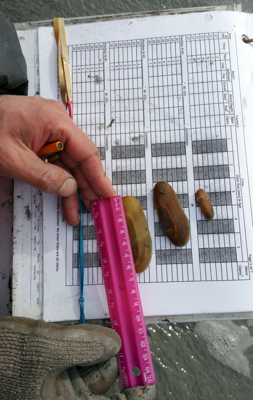 The sampling program compares the age and size range of clams from heavily-harvested beaches to clams from less-popular beaches, to ensure that overharvest is not occurring. A lack of large clams for several years could mean that all large clams are being taken or high natural mortality. No small clams could mean that clam reproduction has not been successful. Razor clam populations on the eastern beaches are experiencing low recruitment of juvenile size clams and high natural mortality of mature size clams. For this reason the eastside beaches are currently closed to all clam digging.
---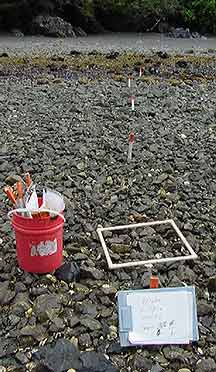 Kachemak Bay Hardshell Clam Research
Surveys have been conducted since 1999 to assess the Littleneck and Butter clam abundances for some sub-bays on the south side of Kachemak Bay. Abundance is estimated by expanding the average number of clams dug to a sampled area distributed over a beach to the total beach in the surrounding area. Surveys have indicated a decreasing trend in density of littleneck density across the bay. Butter clam densities have remained stable or increased across the bay. The decreasing trend in littleneck clams resulted in the Board of Fisheries reducing the bag limits.