Acoustic Monitoring

Southeast Alaska Acoustic Driving Transects
We currently have citizen science acoustic driving survey programs in 7 communities across Southeast Alaska: Cordova, Haines, Juneau, Ketchikan, Petersburg, Sitka, and Wrangell. Surveys are conducted weekly from April through mid-November. Survey kits may be signed out for 1 week at a time.
The driving survey program is a partnership between ADF&G and local coordinators in each community. ADF&G provides the equipment and receives, processes, and analyzes the data. Local coordinators check the survey equipment in and out, download the data, and send the data to ADF&G.
Signing up to conduct a survey is easy:
Complete and sign the Volunteer Agreement (

PDF 1,511 kB

) and email it to ADF&G at dfg.dwc.bats@alaska.gov. All surveyors must have their volunteer agreement approved by ADF&G prior to conducting a survey. Agreements are good for one calendar year.
Instructions for completing the form:

Complete all (and only) sections shaded in yellow
You must provide a full address (including town) for you and your emergency contact
Minors under the age of 8 do not require a form. Parents of minors 8 years and older must read and comply with the department's SOP No. III-524 (

PDF 64 kB

).

Contact the local coordinator in your community during the survey season to sign up for a survey slot. Contact information for each coordinator is listed below.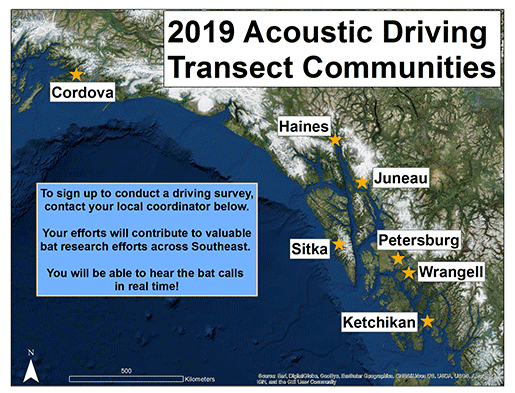 ---
Cordova
Map:
Cordova Transect Route (PDF 314 kB)

Contact: Charlotte Westing
Alaska Dept. of Fish and Game
401 Railroad Avenue
Cordova, AK
99574-0669
(907) 424-3216
charlotte.westing@alaska.gov
---
Haines
Maps:
Haines Hwy Transect Route (hns1) (PDF 497 kB)
Chilkoot Lake to Mud Bay Transect Route (hns2) (PDF 346 kB)

Contact:
Jolanta Ryan
Education and Cultural Coordinator
Haines Borough Public Library
111 3rd Ave
Haines, AK 99827
(907) 766-3830
education@haineslibrary.org

---
Juneau
Map:
Echo Cove Transect Map (PDF 427 kB)

Contact:
The kit is hosted at the Mendenhall Glacier Visitor Center. They are closed for the month of April. For the month of April, please contact:

Pete Schneider
U.S. Forest Service
(907) 789-6639
pschneider@fs.fed.us
Monday-Friday 8:00am – 4:00pm

Starting May 1, please sign up in person at the Mendenhall Glacier Visitor Center, 8:00am – 7:30pm, 7 days a week.
---
Ketchikan
Contact:
Ben Limle
U.S. Forest Service
(907) 228-4139
bllimle@fs.fed.us
---
Petersburg
Map:
Petersburg Transect Route (PDF 425 kB)

Contact:
Chris Weiss
Petersburg Public Library
14 S. Seconds Street
Petersburg, AK 99833
(907)772-3349
cweiss@petersburgak.gov
---
Sitka
Map: Sitka Transect Route (PDF 384 kB)

Contact:
Callie Simmons
Sitka Sound Science Center
834 Lincoln Street, Suite 200
Sitka, Alaska 99835
(503) 807-8068
csimmons@sitkascience.org
---
Wrangell
Map:
Wrangell Transect Route (PDF 333 kB)

Contact:
Corree Delabrue, US Forest Service
District Interpreter
Tongass NF, Wrangell RD
525 Bennett St.
Wrangell, AK 99929
907-874-7550
csdelabrue@fs.fed.us
---
Resources