Reel Times Newsletter
April 2020
Issue 28
---
Canning your catch – How to pressure can salmon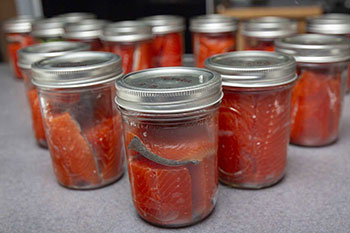 Social distancing and travel restrictions have many of us spending a lot more time in our homes than we normally would. If you're one who has salmon left over from the 2019 season, why not utilize your time at home and pressure can some of that fish? Canning salmon is great way to preserve your fish. You can pressure can fresh fish or fish that has been frozen for a while. And canned salmon can be used in many different recipes.
In this issue, we'll cover how to pressure can salmon, but the techniques can also be used to can other types of fish, meats, sauces, soup stocks, and many other great shelf-stable products.
Are you following us on social media? If not, be sure to check us out on Instagram @wefishak. You can also follow us on Facebook at ADF&G - wefishak. We also have a YouTube channel where there is a growing collection of fishing-related videos, one of which walks you through the entire home canning process.
If you haven't purchased your 2020 sport fishing license yet, we encourage you to buy your 2020 fishing license online. If you buy your license online, a .PDF copy will be emailed to you. That way, if you ever lose your license, you can simply print another one off.
Get Out and Fish. Together. And while you're out there, be sure to practice social distancing from any fellow anglers you may encounter and follow the Governor's heath mandates.
Sport and personal use fishing remain open in Alaska. For more information please read this letter issued by Alaska Department of Fish and Game Commissioner Doug Vincent-Lang.
Tight lines!
Division of Sport Fish
Alaska Department of Fish and Game
Canning your catch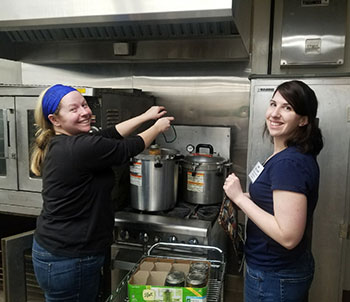 As spring approaches, most Alaskans start thinking about a bountiful summer of fishing. Most also take a good look at their freezers and do an inventory. Do I need to catch more fish this summer, less, or the same number as last year? With a highly productive summer of 2019 for sockeye salmon, it is possible that some of you might have a little extra salmon in your freezers and are thinking about ways to get that salmon from last year out to make space for this year's anticipated catch.
Rather than giving away last year's salmon to free up freezer space, another great option is to can it. Pressure canning fish makes it shelf-stable for a year or longer if canning practices are followed correctly. The canning process also softens fish bones, so you don't have to worry about plucking any bones. Better yet, you can experiment with multiple different spices and seasonings to see what you like the best. Canned salmon makes for a quick and easy lunch on the go, and if you want a real treat, lightly smoke the salmon before canning it. The options are endless with canned salmon.
We hope you enjoy this "how to" video outlining how you can make high quality canned salmon for your family and friends to enjoy year-round. After canning, your pantry will be full, and your freezer will be ready for more fish.
Watch a "how-to" video on canning salmon.
Canning safety tips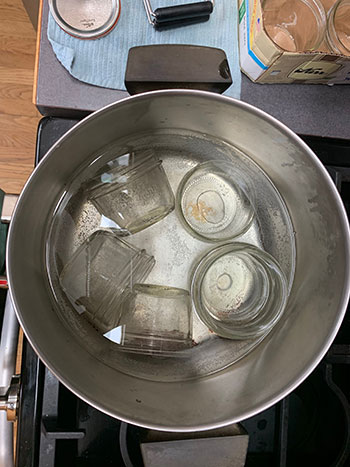 Sanitize your glass jars, rings, and seals by placing them in a hot water bath for a few minutes before packing them with fish.
Don't overpack jars. Leave about an inch of headspace between the fish and the lid.
Wipe any debris and liquid from the mouth of the jar after you've packed it. Put the lid (seal and ring) on the jar. Do not over-tighten the lid- tighten only until you feel a slight resistance.
Read the instruction manual for your pressure canner before using it and follow all guidelines.
Be careful when removing jars from your pressure canner- both the canner and the jars will be hot. Use a jar lifter and place hot jars on a towel. Allow them to cool for 12 to 24 hours before stacking in a pantry or cabinet.
If a jar doesn't seal correctly, you have two options: run it through another full cycle in the pressure canner or refrigerate and consume it within 3-4 days.
Be sure to follow all safety instructions outlined in your pressure canner's user manual when pressure canning fish or other goods.
If you open a jar and the seal isn't tight, or the product doesn't smell right, err on the side of caution and do not consume.
Botulism, while rare, is a concern when consuming canned fish or meat. Botulism can grow on low-acid foods, even when no air is present. Botulism has no taste or smell. Following the proper canning guidelines outlined in the manual for your pressure canner will lead you to a safe, botulism free product. To take an extra safety step, you can also reheat canned goods in the oven or microwave.
If you'd like more information on canning food products, visit the University of Alaska Fairbanks Cooperative Extension resources online
Get Out and Fish Local
While the state is currently experiencing travel restrictions, social distancing mandates and other COVID-19 related efforts to help reduce the spread of the virus, anglers are encouraged to get out and fish in their local community.
If you live in the Anchorage area, the Mat-Su Valley, the Kenai Peninsula or in the Fairbanks area, you don't have to travel too far to find good fishing at a local stocked lake. If you live on or near the coast, you've likely got access to saltwater fishing opportunities.
Please practice safety guidelines associated with COVID-19 to help prevent the spread of the virus. Below are a few tips that can help you and others remain safe.
Fish close to home:
Fish with family:
Fish with members of your immediate family or your household.
Avoid crowded areas.
Limit your time at boat launches and parking areas.
Enjoy your time together!
Stay healthy:
Practice social distancing.
Limit your time in public spaces like tackle supply stores.
Sanitize your fishing gear after each use.
If you're not feeling well, stay home.
Stay in compliance:
While it is encouraged Fish Local, we do realize the importance of sport or personal use fishing in Alaska. Therefore, when traveling to participate in sport or personal use fisheries that occur outside of their communities of residence, the public must follow these guidelines: 1) Try to find the resource you intend to pursue as close to your home residence as possible; 2) Find out local mandates in communities through which you plan to travel before you leave. You must abide by them; 3) Totally provision your trip from your community of origin. Don't plan on buying food, drinks or even fuel (if possible) after you begin your trip and until you return home; 4) Practice social distancing while sport or personal use fishing with anyone not considered part of your immediate household, including while traveling from your community to your fishing location; and 5) Wear face coverings as suggested in Health Alert 010 issued April 3, 2020.
Seeking volunteer testers for our mobile application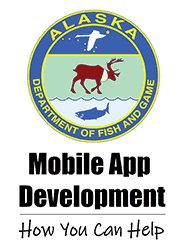 The Alaska Department of Fish and Game is in the early design phase of the development of a mobile application for anglers and hunters. We are seeking volunteers for surveys and/or beta testing of the application and to provide feedback on the workflow, functionality, ease of use, look and feel etc. of the mobile application.
If you are interested in serving as a tester for the mobile application, please complete this online survey https://www.surveymonkey.com/r/adfg_mobile_app. This survey will only be available from April 22 through May 8. We will reach out to volunteers shortly after May 8 with instructions on how to access the mobile application and how to provide feedback. The initial survey should take roughly 1 to 3 minutes to complete.
Thank you for your participation.
Trolling for king salmon in Kachemak Bay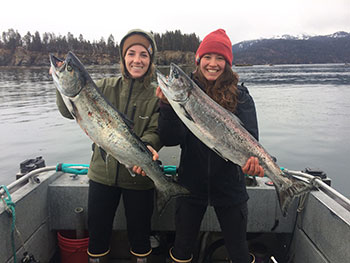 Immature king salmon, or "feeder" kings, are found in Kachemak Bay year-round. The allure of landing a couple of these fish, which typically range from 9 to 20 lbs and sometimes more than 25 lbs, draw anglers to the bay 12 months a year. It's possible to run as far as Point Pogibshi or the Bluff near the Anchor River on calm days with plenty of daylight. Options also abound for the shorter days or days with westerly winds pushing swells into the bay – boats hide behind Yukon or Cohen Island, and fish in many of the bays east to Bear Cove at the head of Kachemak Bay.
Anglers typically use a downrigger to set the gear at a depth anywhere from 15 ft to 100 ft. Trolling speed ranges from 2 to 5 knots – keep the tide in mind and remember that you might not make much progress trolling against it.
There's a huge variety of tackle to try, but the most classic setup is a white flasher with a 36-40" leader with a herring set in a head clip. Try switching up your gear until you find something that works. Different styles of flashers will give more kick to your leader and having a variety of flasher colors – white, chartreuse, purple, and black – will add some variety to your quiver. If you're fortunate enough to land a king, open its belly to see what it has been eating. Try to mimic its prey with your tackle. Herring work great when herring or hooligan are around. Try small skinny spoons or tube flies to mimic sand lance. Sometimes, a king just wants a big flashy spoon to follow, so don't be afraid to try one – particularly in the summer months when spawner king salmon may also be around.
Reel Adventures – Take the Five Salmon Family Challenge
As you prepare for the coming salmon season, make plans to take the Five Salmon Family Challenge.
The Alaska Department of Fish and Game Five Salmon Family certificate program provides recognition to angling families who catch and document the five species of Pacific salmon commonly found in Alaska. Certification in the program requires all salmon must be:
Legally caught in Alaskan waters (fresh or salt water) open to the public
In compliance with current ADF&G sport fishing regulations
Fish caught out of season, in waters where sport fishing for that species is closed, or with illegal sport fishing means and methods cannot be counted toward the challenge - even if the fish is left in the water while the photo is being taken and is immediately released thereafter.
The program promotes family or group angling participation, proper salmon identification and ethical angling practices. Participants can include members of an immediate family, extended family, "family" groups, or any other class of angling partners. The program is open to all anglers (resident and non-resident) who fish in Alaskan waters.
Learn more about the challenge here: https://www.adfg.alaska.gov/index.cfm?adfg=FishingSportFishAK.FiveSalmonFamily
Field to Plate – Recipe of the Month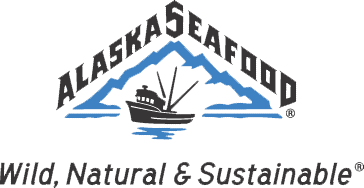 Alaska salmon chowder
This recipe for Alaska salmon chowder can be made with canned salmon. From our friends at the Alaska Seafood Marketing Institute. Enjoy! https://www.wildalaskaseafood.com/recipesdb/?recipeId=NzM=
If you have any questions about the Reel Times newsletter, please contact Ryan Ragan at ryan.ragan@alaska.gov