Alaska Project Wild

Facilitator Resources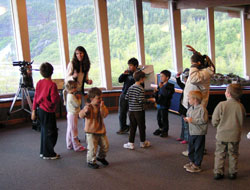 As a facilitator, you will represent the Alaska Department of Fish & Game in a state-wide effort to educate Alaskans in wildlife conservation education. Your experience, creativity, and energy will strengthen our efforts to maintain natural resources for current and future generations. The Facilitator plans, organizes, and facilitates teacher training workshops in one or more of the following: Project WILD, Project WILD Aquatic, and the Alaska Wildlife Curriculum (AWC). As a facilitator, you set the stage for learning and encourage participants to explore and develop as professionals. The role of the facilitator is to help the participants make their own observations and interpretations, and to assist them in discovering the potential that Project WILD and AWC hold for them as educators.
Why be a Facilitator?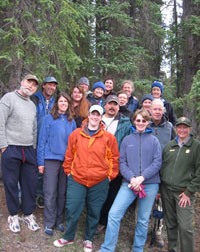 Workshop facilitators are the lifeblood of Project WILD and the Alaska Wildlife Curriculum. Nationwide, facilitators have successfully trained over a million educators to the Project WILD and AWC activity guides. In Alaska, thousands of educators have received training in both WILD and AWC. Without the time and energy facilitators provide to the program, we would not have attained the status these programs hold within environmental education circles.
Once you have joined the ranks of these very important facilitators, you will benefit from other facilitator's experiences. Through facilitation of workshops, recognition, and networking you will become a role model and recognized leader in environmental education. Additional benefits for becoming a volunteer facilitator include:
Access to professional development and networking opportunities
Incentives (fabulous prizes!)
Fulfillment and satisfaction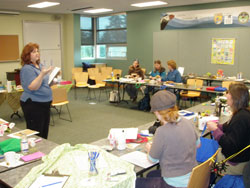 For more information about training to becoming a volunteer or contracted facilitator contact:
Brenda Duty, Project WILD Coordinator
Alaska Department of Fish and Game
Division of Wildlife Conservation
333 Raspberry Road
Anchorage, AK 99518-1599

Telephone: (907) 267-2216
Email: Brenda Duty (brenda.duty@alaska.gov)
Information and Forms for Project WILD Facilitators
Section I Introduction
Section II Workshops
Section III Facilitator Forms
Section IV Resources and References