Reel Times Newsletter
May 2020
Issue 29
---
Spring is Here - Are You Ready to Get Out and Fish?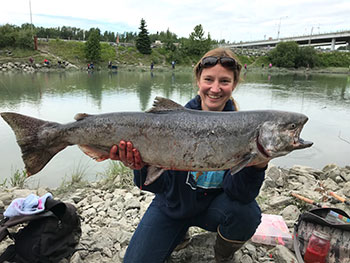 It's an exciting time to be an angler in Alaska. It's finally spring! Most of the lakes and rivers are ice free and fresh schools of salmon are beginning to make their way from the ocean to their natal freshwater streams.
Are you ready to get out and fish?
In this issue of Reel Times, we will share a few tips and reminders on how to best prepare for a day on the water. If you have not already done so, be sure to purchase your 2020 sport fishing license and king salmon stamp (if you plan to target anadromous kings). You can purchase licenses and stamps in our online store.
Are you following us on social media? If not, be sure to check us out on Instagram @wefishak. You can also follow us on Facebook at ADF&G - wefishak. We also have a YouTube channel where there is a growing collection of fishing-related videos.
While you're out there targeting the catch of the day, be sure to practice social distancing from any fellow anglers you may encounter and follow the Governor's heath mandates.
Sport and personal use fishing remain open in Alaska. For more information please read this letter issued by Alaska Department of Fish and Game Commissioner Doug Vincent-Lang.
If you have a comment or story ideas for Reel Times, we encourage you to send them our way. You can send comments to ryan.ragan@alaska.gov.
We'll see you on the water.
Tight lines!
Division of Sport Fish
Alaska Department of Fish and Game
Search How-To videos on ADF&G YouTube channel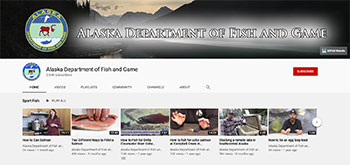 Ever wonder how to clean a burbot? How about how to fish for Arctic grayling in the Chena River? Our growing collection of "how-to" videos on the Alaska Department of Fish and Game YouTube channel highlights a number of fishing-related topics that anglers may find useful.
May marks the month when many anglers head out to target king salmon in freshwater. We produced two videos aimed at helping king salmon anglers target their quarry in freshwater. The "How to Tie an Egg Loop Knot" illustrates a knot commonly used to secure bait to the kook, and the "How to Set Up and Spin-N-Glo Rig" shows a common set-up used to target kings in freshwater.
There are many more videos on the channel that you or someone you know may find useful. And we plan to add more fishing-related videos in the future. Be sure to subscribe.
2020 Sport Fish Regulation Summaries Available Now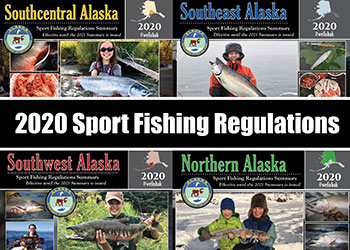 Each year the Alaska Department of Fish and Game – Division of Sport Fish publishes four separate sport fishing regulation summary books. These books provide regulatory information to anglers and are available in hard copy at ADF&G offices and at most vendors.
You can access the online versions 24 hours a day, 7 days per week.
If you ever have any questions about sport fishing regulations, or if you ever need advice on fishing local areas, please don't hesitate to contact an ADF&G office in or near the area you plan to fish. A list of area offices and contact numbers can be found online.
Check Out Regional Updates!
Southcentral Alaska – Dipnetting Hooligan in Southcentral Alaska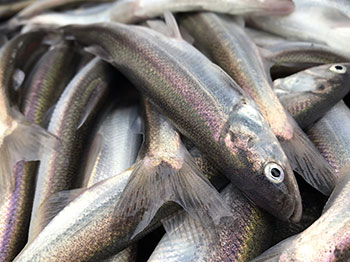 Streams and rivers are swollen with runoff from melting snow and we are experiencing longer days and warmer temperatures which can only mean spring is here, and summer is not far behind. With the warmer temperatures eulachon or hooligan are starting to trickle into waterways throughout Southcentral Alaska. The arrival of these silvery blue, slim body fish species tends to be a sign that the summer fishing season is coming, and the bigger fish are not too far behind for Alaskans. Many people will eat hooligan dried, smoked, canned, fresh, or pan fried.
Hooligan run times are highly variable and the numbers of hooligan returning to a stream can vary greatly from year to year. Hooligan are weak swimmers and will gather in large schools at the mouths of slow-moving waterways, as they cannot swim through the long stretches of swift moving waters. Hooligan will often get caught as they are swimming in with the tide so make sure you look at the tide table before you go. Hooligan can be caught and harvested in both fresh and salt waters. Although the freshwater and saltwater season often overlaps, it is not always the same.
Only Alaskan residents are allowed to dipnet for hooligan in this personal use fishery. A dipnet permit is not needed; a 2020 sport fishing license is required. The type of gear you are allowed to use may vary depending on the river you are fishing, but typically the most common fishing method is a long handle dipnet with a small net.
Just a reminder to all our anglers, please do your part to help slow the spread of Covid-19 by following and reviewing the current State of Alaska Health Mandates in effect. This includes practicing social distancing while sport and personal use fishing and wearing a face covering when fishing and if you are needing fishing supplies from your local store as indicated in Health Alert 010. A couple popular Southcentral locations to dipnet for hooligan include:
Twentymile River: With its close proximity to Anchorage, the Twentymile River is one of the most popular spots to dipnet for hooligan in Southcentral. Most hooligan anglers dip in the saltwater of Turnagain Arm, which runs parallel to the Seward Highway. If you fish up stream of where the Twentymile River intersects with the Seward Highway then you will be fishing in freshwater. Fishing for hooligan opens April 1 for saltwater and freshwater. This fishery closes in the saltwater on May 31 and closes in freshwater on June 15. Fishing out on the mudflats of Turnagain Arm can be extremely dangerous so most people stick to dipnetting off the rocky outcroppings where the water comes close to the highway. Fishing near the highway can bring another set of dangers. The incoming tide helps to propel these fish up the river. Because of its popularity, speeds limits are reduced in this area during the hooligan dipnetting season. So be courtesy, cautious, slow down, and do not block the boat launch. As always, take with you what you brought, do not leave trash behind.
Resurrection River: The incoming tide is the best time to dipnet for hooligan at the mouth of Resurrection River. The tide helps push these slow-moving swimmers into the river. Dipnetters have also found luck dipnetting in the freshwater area of Resurrection River. Make sure you know where the saltwater and freshwater boundaries end and begin for Resurrection River during the hooligan dipnetting season. Fishing for hooligan opens April 1 for saltwater and freshwater. This fishery closes in the saltwater on May 31 and closes in freshwater on June 15.
Kenai River: The Kenai River hooligan season is from April 1- June 15. During the hooligan season on the Kenai River a dipnet can be used to harvest hooligan throughout the Kenai River. A small handheld gillnet can be used to harvest hooligan in the Kenai River from its mouth upstream to an ADF&G marker located at Cunningham Park. Try dipnetting near the mouth of the Kenai River and move upriver as the run and season progresses. Dipnetters can harvest hooligan around Cunningham Park, Soldotna Creek Park, and occasionally up to Bing's Landing depending on run strength and timing. Hooligan fishing tends to be more productive towards the end of May and early-June with the more typical spring-like weather pattern.
Susitna and Yentna rivers: Hooligan fishing typically peaks on the Susitna River during Memorial Day weekend. Try dipnetting along sand bars on the lower Susitna River and by late May and early June, excellent catches are usually reported downstream of the Yentna-Susitna confluence. Fishing for hooligan opens April 1 for saltwater and freshwater. This fishery closes in the saltwater on May 31 and closes in freshwater on June 15.
Be sure to review the 2020 Southcentral Sport Fishing Regulations Summary booklet for additional information. For updates on local hooligan runs, please contact the local ADF&G area office where you plan to go dipnetting.
Interior Alaska – Delta Clearwater Arctic grayling
By Brandy Baker
Warming temperatures and increased daylight = Spring! Snow and ice will soon be melting, rivers flowing, and the onset of open water fishing will be here before we know it.
The Delta Clearwater River (DCR) is an amazing clearwater river in the heart of Interior Alaska that provides a trophy Arctic grayling fishing opportunity. The DCR is spring fed from a large alluvial aquifer that is fed from nearby streams and creeks coming out of the AK range. This results in year-round open water and river flow and water temperatures that rarely fluctuate, providing a near pristine habitat for aquatic insects and fish. Arctic grayling utilize the DCR for summer feeding. They migrate to the system in early spring after spawning in nearby tributaries. Throughout the summer they feed on an abundance of aquatic insects, and prior to winter they take advantage of eggs from fall spawning coho salmon before migrating to overwintering locations in the Tanana River and various local tributaries.
The DCR provides an opportunity to spin fish or fly fish. Most spin fishers are successful with white or black mister twister jigs, and brightly colored or silver spinners. Fly fishers try matching flies to the current hatch of insects. Early in the season mayflies work well and as summer progresses, the mosquito and black ant flies become irresistible. View our "How to fish for Arctic grayling" for tips and techniques at https://vimeo.com/94711113 or https://www.youtube.com/watch?v=GTZo1iKZR5g
The Clearwater Creek State campground provides amenities such as outhouses, campsites and a boat launch to make your fishing trip easy and enjoyable. The river is wadable in various locations or try launching your canoe or kayak for a leisurely float down the river and into Clearwater lake. A floating guide published by State Parks provides valuable information on tips and what to expect.
Due to open water conditions in early spring, many boaters take advantage of the DCR to test their boats and fish for Arctic grayling. The DCR is shallow and winding in nature and there are many blind corners. Multiple user groups recreate on the DCR such as jet boaters, canoeists, kayakers, and wading anglers. Please be mindful of blind corners and other recreationalists that may be on the river, stay "river right" and yield to non-powered vessels. Jet boats have the power to create big wakes especially when getting on and off step, please exercise caution when passing. There are multiple cabins and undeveloped private property along the lower 14 miles of the DCR, please respect private property and haul out what you bring in.
This spring head to the Interior for a "Reel Adventure" and try catching a trophy sized Arctic grayling from the DCR.
Reel Adventures – Resources to Help You Plan Your Next Trip
The Alaska Department of Fish and Game – Division of Sport Fish has information on our website that you can use to better plan your next fishing trip.
Fish Counts: Our daily fish counts page is where you can find out how many fish (based on species) were counted in specific freshwater bodies.
Salmon Identification and Lifecycle Guide: Need to better your Pacific salmon identification skills? This online brochure will help you better identify the five Pacific salmon native to the freshwaters of Alaska.
Fishing Reports: You'll find weekly fishing reports for areas across the state online. If you have not signed up to receive weekly fishing reports in your email, please sign up here.
Field to Plate – Recipe of the Month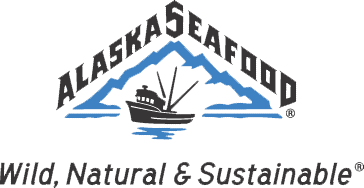 Honey-soy Alaska Salmon With Scallions
Do you have fresh or frozen salmon? Try this delicious recipe for honey-soy Alaska salmon from our friends at the Alaska Seafood Marketing Institute.
If you have any questions about the Reel Times newsletter, please contact Ryan Ragan at ryan.ragan@alaska.gov